We take all the hassle out
of managing your
excess inventory
Maximize value on excess stock and free up warehouse space! Our novel algorithm analyzes massive data to extract the relevant information, increase profit and match customers for excess stock. Together with a project management shell, A to Z support, you endup with a full solution for your EI.
Would you like to earn money instead of paying Tax on your EI?
Do you know what is the market value of your excess inventory?
Is your inventory taking expensive warehouse space
Spending too much time on EI selling, scrap, storage, negotiation?
Flooded with pending emails/tasks? Need POC for brokers and client inquiries?
WE analyze your stock in sync with the current market data. Perform a valuation, BI. Apply global marketing and exposure programs to our entire worldwide customer base. Connect between your EI and relevant customers. Establish POC for brokers and client inquiries. Manage the EI selling, scrap, storage, negotiation etc.
YOU retain a bigger profit margin. Mmaximize economic value on
excess or dead/old inventory of electronic components. Free up valuable and unnecessary warehouse space. Help deliver a better overall sales process.
Best part? You don't need to wait till year end to sell your EI! 
Upload your EI anytime, and we will manage it for you instantly.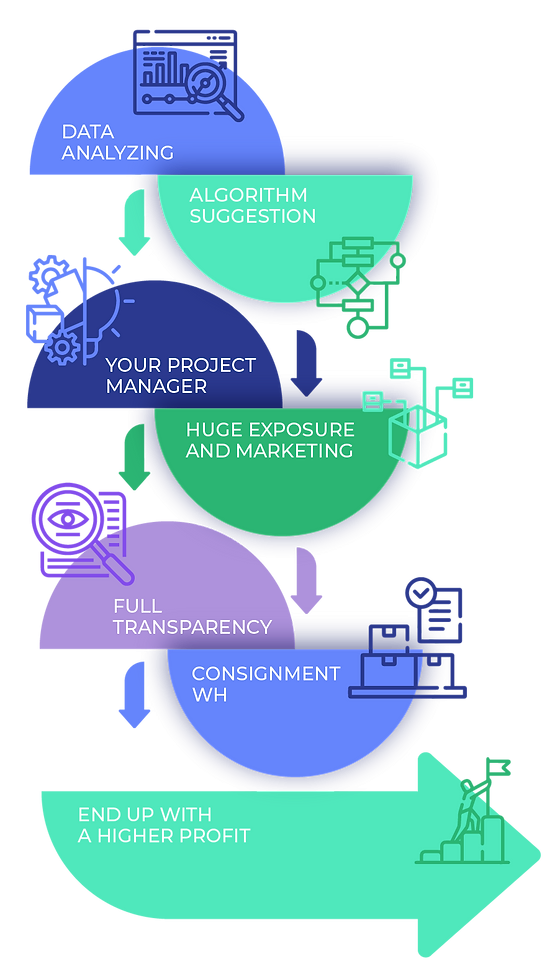 Our AI driven date system analyzes your stock in sync with the current market data,
establishing its real market value, and providing decisive data for sale, storage, or scrap.
Our algorithm suggests the best approach. From profit sharing (where we sell the EI and share the profit with you), to buying all the EI as one transaction, to managing it by part.
Your designated project manager oversees your stock list, establishes POC for brokers and client inquiries, and manages the EI selling, photos, scrap, storage, negotiation, deliveries and the rest.
Huge exposure
and marketing
We use various platforms to promote your EI list to our entire worldwide customer base comprising thousands of potential customers. You will have the opportunity to
connect with more than 100,000 potential customers, as well as managed social communities and global marketing programs.
Your project manager sends you a weekly report on the progress of your EI, so you can have a clear overview of all processes and operations.
Our WH services on deliveries lets you manage the entire process from sales to delivery and customer service, as well as store your EI in our WH.
Maximize economic value on excess inventory or obsolete electronic components, and free up valuable and unnecessary warehouse space.
Our one-of-a-kind EI program for all OEM's uses innovative algorithms that improve the management efficiency, while the AI system and wisdom of the crowd maximize the profit and free WH. The system analyzes and suggests better decisions that help us to manage a state-of-the-art process. This enables us to manage an unlimited amount of EI effectively.
Get attractive prices and accurate matching to
your needs. Our automation facilitates the entire process, allowing you to get rich
analysis and characterization of the inventory and speeds it up.
The core of our success lies in what we like to call ​synergistic cooperation. It's about supply and demand, but more importantly that 'and' in between: from companies that need to offload a product to businesses in dire need of that product. Because success in this industry relies heavily on creating that Win Win synergy.